With a user-friendly layout and a variety of strong features, cPanel has become one of the most well-known control panels in the broad field of web hosting. Understanding the fundamentals of cPanel is essential to efficiently manage your website, regardless of your experience level as a webmaster or how new you are to the world of the internet.
Your server's shared IP address is one important piece of information you could want while dealing with cPanel. From domain mapping to SSL certificate installation, this IP address is crucial to many facets of website maintenance. But where in the bowels of cPanel might you find this mysterious shared IP address?
We'll walk you through the steps of finding your server's shared IP address in cPanel in this blog article. We'll provide you step-by-step directions with screenshots so you can easily find this crucial piece of information and master the complexities of cPanel.
This article will arm you with the knowledge to properly access and use the shared IP address of your server, regardless of whether you're an inquisitive website owner, an aspiring web developer, or an experienced sysadmin. So let's start digging into cPanel's mysteries and demystifying how to get your server's shared IP address as we go.
What is an IP in web hosting?
A device connected to a computer network that utilizes the Internet Protocol for communication is given a specific numerical label known as an IP (Internet Protocol) address in the context of web hosting. Similar to a phone number or a street address in the real world, it acts as a distinctive identification for gadgets.
An IP address is given to a server that hosts websites and other online services in the context of web hosting. A website visitor requests the requested material by sending a request to the server's IP address through their web browser. After processing the request, the server returns the necessary information to the user's browser, enabling them to access the website.
What is a shared IP Address?
A shared IP address is one that is used by several websites that are hosted on the same server. This implies that more than one domain name is linked to a single IP address.
Multiple websites are hosted on a single physical server in a shared hosting environment, which optimizes resource usage and lowers costs for website owners. Each website on the server utilizes the same IP address to offer its content to visitors since resources are shared, including the server's IP address.
How To Find Your Server's Shared IP Address in cPanel
Login to your cPanel. (How to login to cPanel)
On the right side, panel you will see your server's shared IP and to check more information about your server click on the server information tab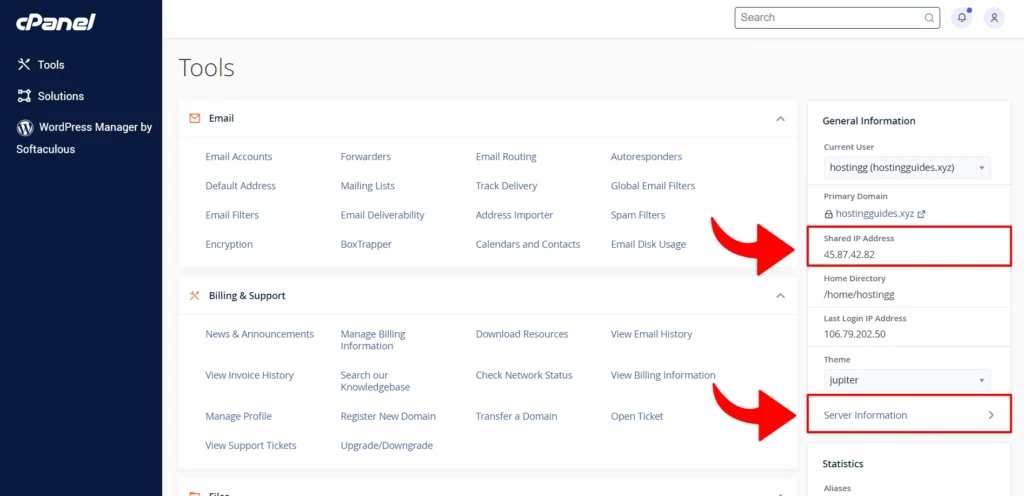 Here you will see your server information like your hosting package, server name, cPanel name, Apache version, PHP version, and many more.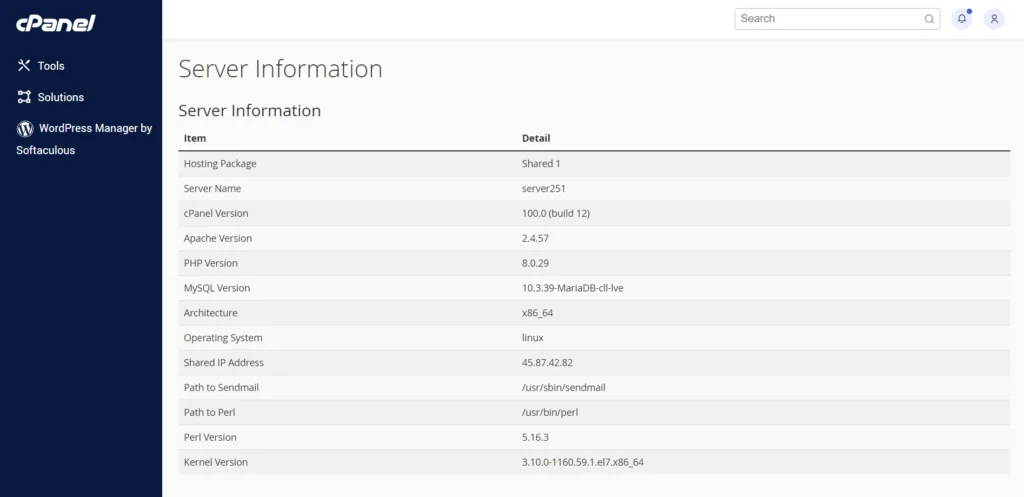 Conclusion – How To Find Your Server's Shared IP Address in cPanel
Anyone managing a website would benefit from being proficient with cPanel, and finding your server's shared IP address is a crucial component. You'll develop the confidence necessary to easily access this vital information within cPanel by following our in-depth instructions. With this information, you can easily configure domains, install SSL certificates, and make sure your website runs without a hitch.