cPanel is the most used server control panel which is used by most of the web hosting providers and because of this users get more friendly with the cPanel interface. No doubt cPanel is one of the best server control panel out there it's features, user interface, and integration with other tools everything is amazing.
cPanel is majorly used by web hosting providers but because of this adaptation individual users also love to use cPanel on their servers whether it is a VPS or a Dedicated server.
But because of recent price hike in the cPanel license pricing makes it expensive for many resellers. After that many web hosting companies shifted to cPanel alternatives and individual users also looking for the best cPanel alternatives to manage their servers and websites.
Here I got you covered in this article I shared all the best cPanel alternatives available out there. I shared the pros & cons, features, and other details about these cPanel alternatives to help you in finding the best cPanel alternative for you according to your needs.
Cyberpanel – Opensource Web Hosting Control Panel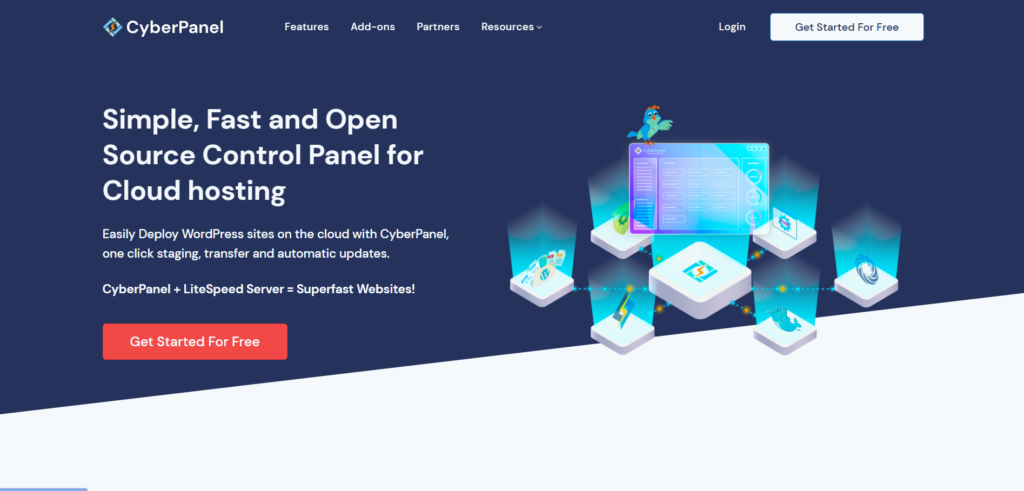 CyberPanel is an open-source web hosting control panel based on a LiteSpeed server. It also comes with built-in support for FTP, Email, DNS, File Manager, automatic SSL, and more. With all this, it also has a significant and very useful community where you can ask any question about CyberPanel if you facing any issue also you can submit a request for a feature that you think CyberPanel should have.
The best thing is CyberPanel is forever free to use for unlimited websites. You can install it for free on your server for free and host unlimited websites.
Features:
CyberPanel has many amazing and useful features here are some of them that you should know.
It supports OpenLiteSpeed and LiteSpeed Enterprise which helps you to create fast-loading websites.
Comes with a LiteSpeed Cache module with a cache plugin for WordPress, Drupal, Joomla, etc.
Easy to use file manager. You can easily download, upload, and compress files on your server.
Comes with ModSec and CSF integration to keep your website secure from hackers.
Free SSL for all websites on your server in just one click.
One-click installation for WordPress, Joomla, Drupal, etc.
Pro & Cons
Every Control Panel has some pros and cons here are some pros and cons of CyberPanel.
| Pros | Cons |
| --- | --- |
| Integrated with Litespeed web server | Support is not that good |
| One-click app installation | |
| One click app installation | |
| Easy To Use Interface | |
Pricing
CyberPanel is completely free to use for a lifetime but if you want to add features like WordPress Manager, Apache as Reverse Proxy, Backupsv2, SSLv2, RSPAMD Manager, or Root File Manager then you can pay for their addons.
But the best thing is you can buy all these add-ons by paying a one-time fee which means there is no headache of paying every month. Still, if you want to pay every month then you can choose the billing cycle according to your needs.
I will suggest you go with the one-time payment option that is the best for you and the lifetime plan will cost you $139 for all the addons. To check all their billing cycle and pricing of add-ons visit their pricing page.
Cloudpanel – Hosting Control Panel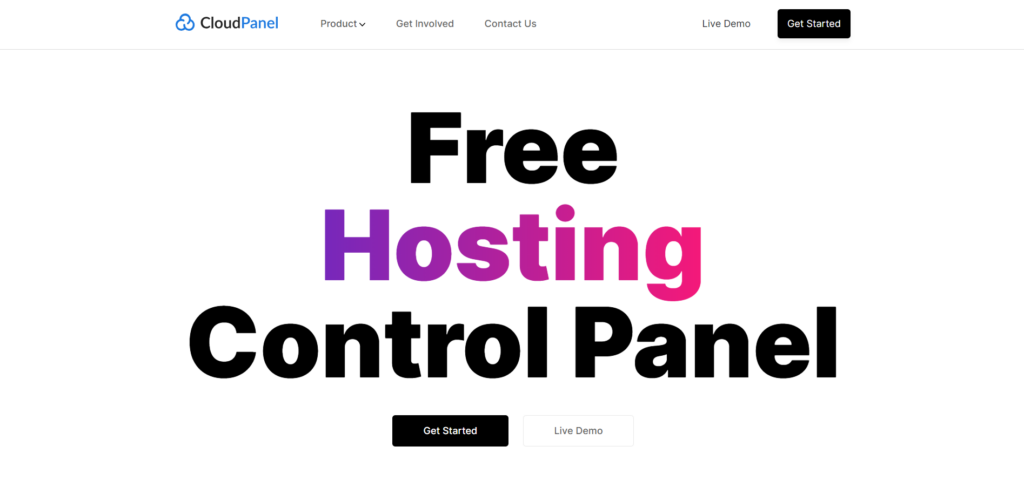 CloudPanel is a completely free web hosting control panel without any hidden charges. It is a modern server control panel with a simple and clean user interface for both admin and users. It also comes with some advanced cloud functionalities.
You can see AWS Instance information directly on CloudPanel. AWS Security Groups rules are directly managed from CloudPanel without visiting AWS Management Console. The same is applicable to Digital Ocean and Google Cloud. You can manage Droplets, Firewall Rules, DNS, and Snapshots directly from your control panel.
CloudPanel is also good in terms of security you will get options like IP, Bot Blocker, and Two-factor authentication.
Features
Here are some amazing features of CloudPanel that you should know about.
Cloudflare integration
Supports MySQL and MariaDB
IP & Bot Blocking
Provides VHost editor
Free Let's Encrypt Certificates are supported
Use an external database server or services like Amazon Aurora or RDS to scale the database operations horizontal or vertically
CloudPanel CLI to automate adding sites, databases, and certificates. Reset user passwords or disabling two-factor authentication.
Pros & Cons
| Pros | Cons |
| --- | --- |
| Completely Free (No Contract or Hidden charges) | Little bit complex to setup for beginners |
| Advanced cloud functionalities | |
| Supports Multiple PHP Versions & all PHP Apps | |
| Specific PHP configuration for each domain | |
| NGINX Support | |
| Free Let's Encrypt SSL | |
| Supports > 10 languages | |
DirectAdmin – Web Control Panel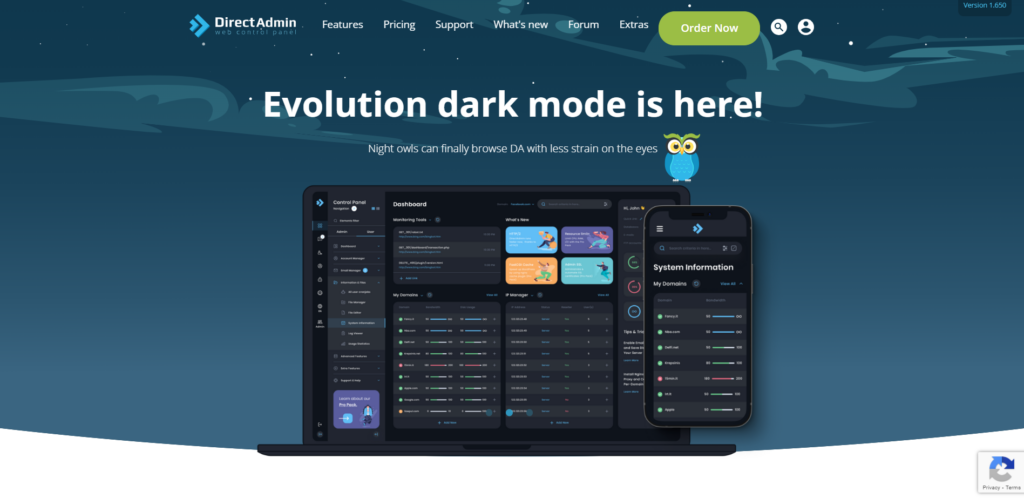 Directadmin is Graphical User Interface (GUI) based server control panel. It is a very popular control panel in the market because of its easy-to-use user interface and amazing features.
Features
DirectAdmin has many amazing features I mentioned some of them below these are some amazing features that separates it from other control panel.
Create / Modify Admins and Resellers
create, modify, or delete any DNS records on the server.
sets the IP address available to the server. The admin can also allocate IP addresses to resellers
Using this powerful tool, users can backup and restore only what they want to. For example, account data but not website files.
A wide variety of SPAM-fighting tools are provided with DirectAdmin.
Pros & Cons
| Pros | Cons |
| --- | --- |
| Easy to use Graphical User Interface | The best option for beginners |
| Very affordable pricing | |
| Best option for beginners | |
| Fast and Smooth Functioning | |
Pricing
DirectAdmin is a paid server control panel and its plan starts from $2 per month and goes up to $29 per month. Every plan comes with different features that you can check in the below image or you can check all details about DirectAdmin pricing on their official website.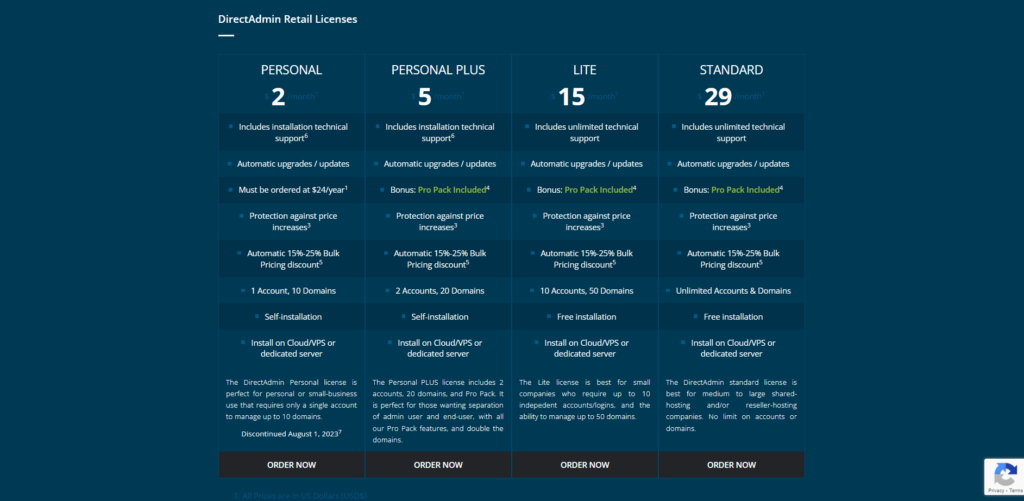 Plesk – Innovative Hosting Control Panel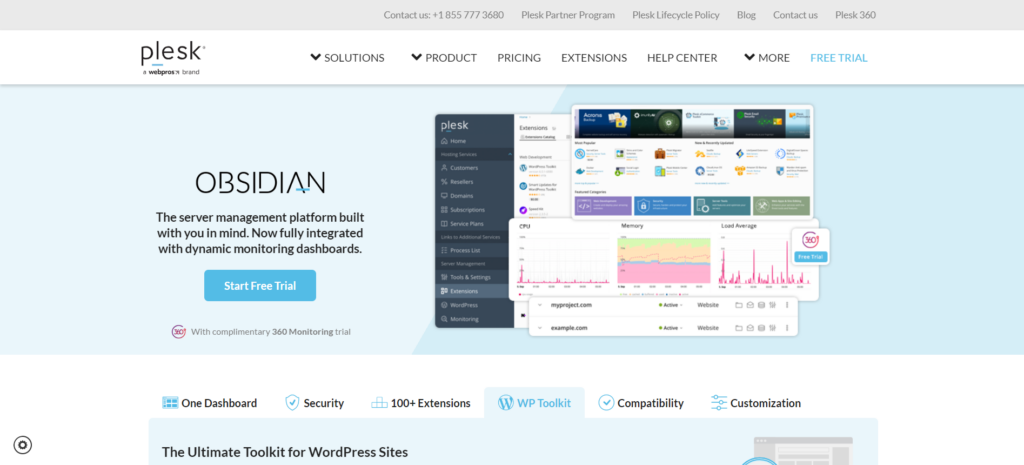 Plesk is one of the most popular server control panels especially for servers based on Windows. According to them, 50% of the top 100 service providers worldwide are partnering with Plesk. Plesk, offer all the features that you need to manage and control your website.
Features
Plesk offer provides a lot of features and it's impossible to cover all of them here so I mentioned some key features of the Plesk hosting control panel.
Plesk has 100+ extensions to add more features to your control panel and to boost your website performance and the best thing is they are adding new extensions as well.
Plesk also has a mobile app to manage your servers from your mobile
Scan, Repair, Report, Fix supported databases.
Migrations without the need to use the command line. Supported sources: cPanel, Confixx, DirectAdmin, and more.
Take advantage of the speed of HTTP/2!
Customizable skins are available. You can easily create your own skins, and re-brand the UI to your needs!
WordPress toolkit for Mass-manage, secure, and automate your WordPress instances, plugins, and themes. Simple staging, cloning, updating, caching, backup, and more.
Dashboard for a master view of all your WordPress and Joomla! sites.
Pros & Cons
| Pros | Cons |
| --- | --- |
| List weight hosting control panel | UI is complex to understand for beginners. |
| Amazing security features | |
| It has 100+ extensions to add and expand features for your users and websites. | |
| It fast and powerful hosting control panel | |
Pricing
Plesk pricing starts from $13.50 per month and goes up to $35.50 per month for VPS. Also, Plesk offers different pricing in different regions which you can check on the Plesk Pricing page.
Virtualmin Open Source Hosting Control Panel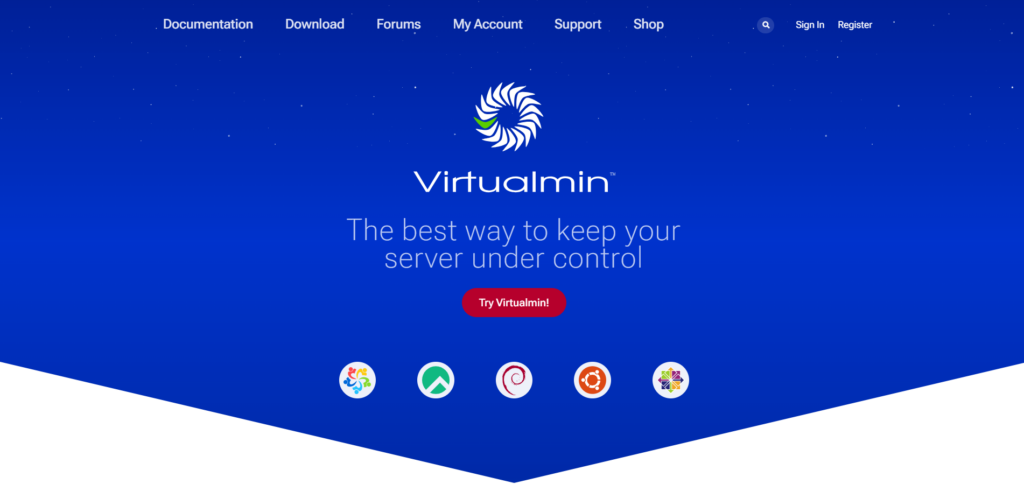 Virtualmin is a very popular open-source web hosting control panel and it is based on a very popular web-based UNIX and Linux system administration tool webmin. It provides you with amazing features to manage your servers, and websites online.
Virtualmin is an established hosting control panel that is also used by many big names like hosting.com, Rackspace.com, University of Taxes, and many others.
Features
Virtualmin comes with many mind-blowing features here we will discuss the key features of Virtualmin.
Straightforward and easy-to-use interface you can manage your website files easily with its easy-to-use interface.
Excellent monitoring features Virtualmin includes Webmin's powerful monitoring features, which allow monitoring of all of the services in a Virtualmin system, as well as vital system stats like disk space, CPU load, network availability, mail queue, and more. Administrators can be notified via email or SMS, and in the event of a failure, a custom command can be executed to perform any action desired.
Linux Firewall comes with one of the best firewalls in the market which is Linux firewall which protects your website from hackers
It also offers slave DNS. It is a secondary DNS server that creates or stores backups, and Virtualmin provides automation configuration slave DNS.
| Pros | Cons |
| --- | --- |
| Strong security features | Poor customer support |
| Easy to customize | |
| Easy to integrate with cloud storage | |
| Flexible to use | |
Froxlor – Server Management Panel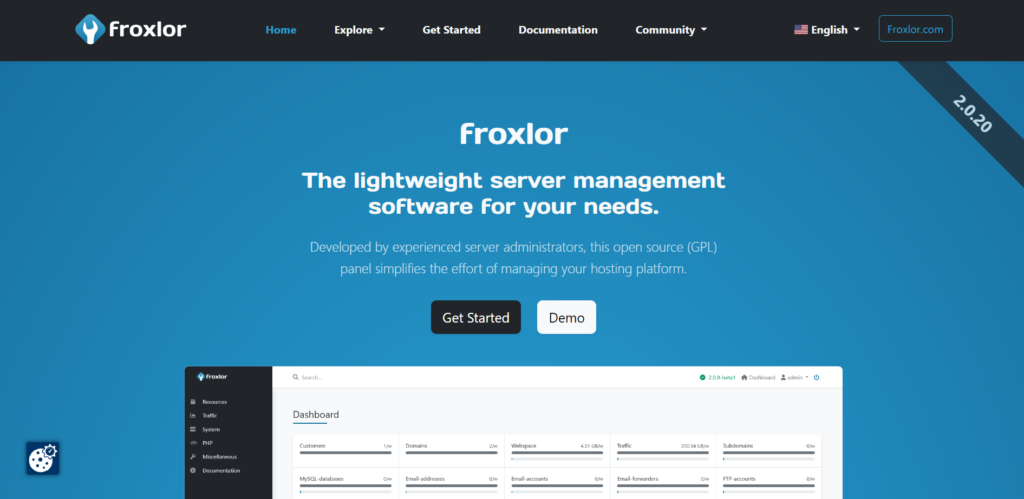 Froxlor is an open-source lightweight server management software. It is best for managing shared hosting servers. Froxlor is written in PHP language and offers amazing features to manage your servers.
Features
Option to select different domains for IPv4, IPv6, or even port.
You can determine which port should use SSL
Multiple PHP versions are available
Style froxlor by overwriting the basics like CSS or creating your custom theme.
Free Let's Encrypt SSL certificates
Pros & Cons
| Pros | Cons |
| --- | --- |
| You can choose different domains from different IPvs and Ports | Only have basic features many important features are missing |
| Simple user interface | |
| Customizable Theme using CSS | |
Webmin -Web Based Control Panel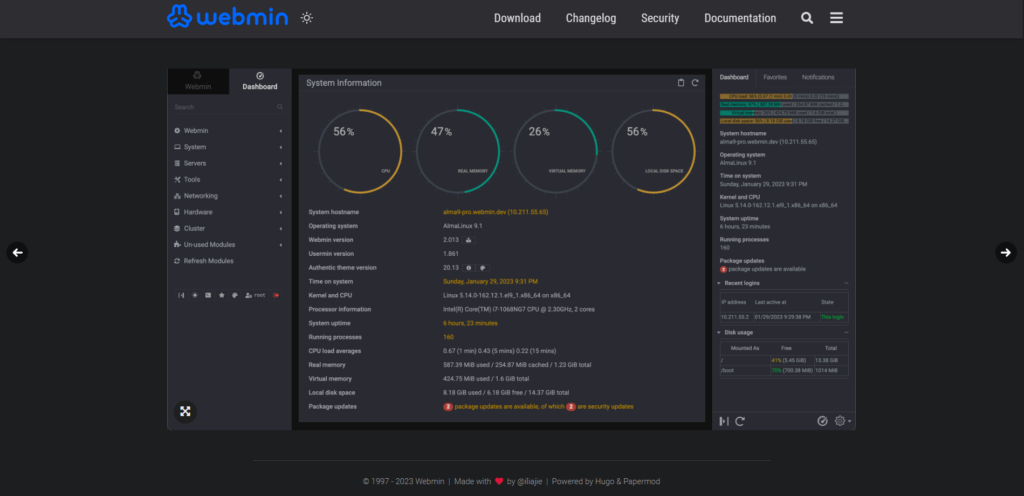 Webmin is a web-based system administration tool for Unix servers. With this, you can use any modern web browser to set up user accounts, DNS, Apache, and more.
Features
You can manage the system from the console or remotely.
It allows you to configure almost all Apache directives and features.
You can create and edit DNS records, BIND (Berkeley Internet name domain) options, domains, and views.
This tool allows you to see reports on bandwidth usage by port, protocol, and host on a Linux system.
You can install and manage themes and modules across multiple servers.
Webmin helps you to create, update, delete, and group users across many servers.
| Pros | Cons |
| --- | --- |
| A user interface to not friendly for beginners | User interface to not friendly for beginners |
| Extensible and flexible | |
| Ability to modify applications | |
| Ability to modify ports and usage | |
| | |
Control Web Panel (CWP)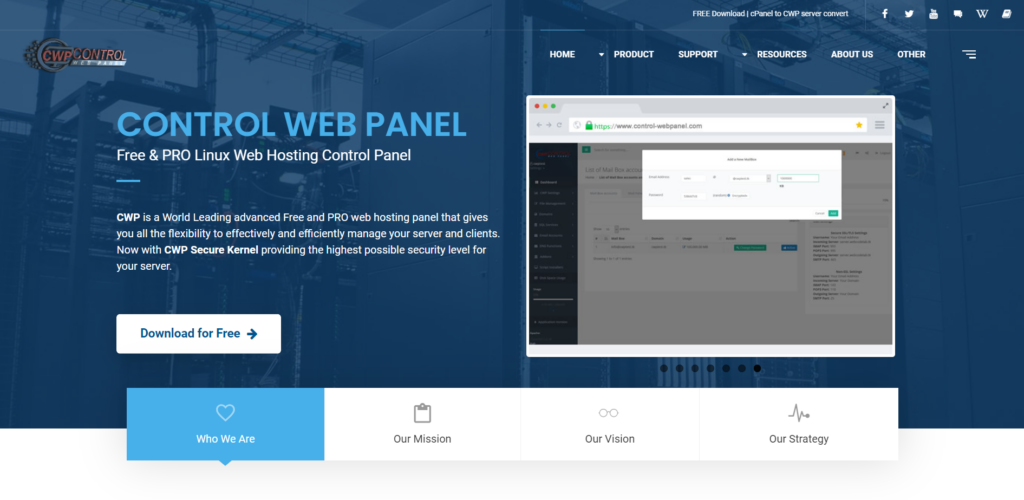 Control Web Panel is an AI-powered server control panel. It is designed for managing dedicated and VPS servers. It comes with a modern interface for users. CWP is powered by CWP kernel which has the highest security for Web Hosting servers.
It also has a premium version called CWP Pro. It is the latest professional version of Control Web Panel which gives you the latest version of CWP with fast automatic security fixes. CWPpro also has more features and security improvements.
Features
Multiple Web Server Options to improve speed, performance, and reliability.
Provides a powerful file manager
The server log will help you to understand tasks performed on the server or to solve issues with the server.
It comes with monitoring tools Including Netdata, Monit monitoring, Live monitoring of MySQL processes, as well as an AI bot to help monitor the health of your server.
CWP has a migration wizard that makes it easy to transfer a website from Cpanel to CWP or transfer a website to another CWP server.
The control web panel packs a lot of features dedicated to security and towards securing your server.
Pros & Cons
| Pros | Cons |
| --- | --- |
| Advance security using CWP kernel | It has a migration wizard to migrate websites from cPanel to CWP |
| Multiple Web Server Options to improve speed, performance, and reliability. | |
| CWP had a modern interface which is easy to use | |
| CWP had a modern interface that is easy to use | |
Pricing
CWP is completely free to use for a lifetime but to use CWP Pro you have to pay their subscription fee which costs you $1.49 per month for the CWP Pro plan and $12.99 per month for CWP Pro + Managed Support.
ISP Config – Hosting Control Panel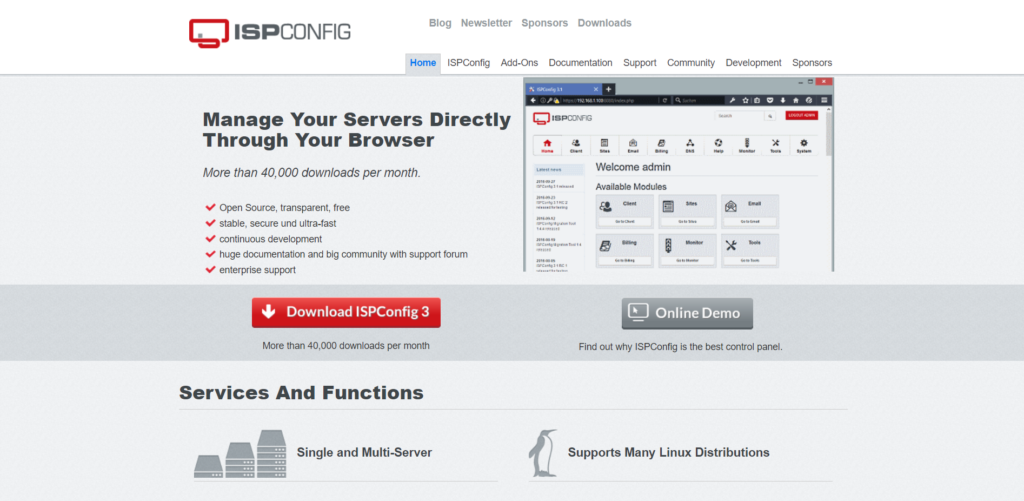 ISP Config is an open-source server control panel for the Linux operating system. Also, it helps you to manage your server from your browser. ISP Config has some amazing addon to manage your servers.
ISP Config Addons:
ISPConfig 3 Billing Module: It is a provider of billing software for ISPConfig 3. It is an integrated extension to add billing and invoicing features to the ISPConfig 3 Control Panel.
ISPConfig 3 Migration Toolkit: The migration toolkit helps you to import data from other control panels (currently ISPConfig 2 and 3, Plesk 10 – 12.5, Plesk Onyx and Confixx 3) into a new ISPConfig 3 single- or multiserver installation and to copy an existing ISPConfig 3 installation to a new server as it is.
ISPProtect Malware Scanner: ISPProtect is a Malware and Antivirus scanner for web servers. It contains a signature-based scan engine and a heuristic scan engine to detect Malware in websites, CMS- and shop systems like WordPress, Joomla, Drupal, Magentocommerce, etc.
Features
You can manage multiple servers from one control panel.
Supports many Linux distributions like Debian, Ubuntu, and CentOS.
Available in 20 different languages
Four-level access (Administrator, Reseller, Client, and Email login)
Supports Daemons like HTTP: Apache2 and Nginx, SMTP: Postfix, POP3/IMAP: Dovecot, FTP: PureFTPD, DNS: Bind, PowerDNS, Database: MariaDB and MySQL
Pros & Cons
| Pros | Cons |
| --- | --- |
| Manage multiple servers from one control panel | User interface is simple but looks old |
| Web server management (Apache2 and nginx) | |
| Mail server management (with virtual mail users) | |
| DNS server management (BIND and PowerDNS) | |
| Virtualization (OpenVZ) | |
| Configuration mirroring and clusters | |
Ajenti – Server Admin Panel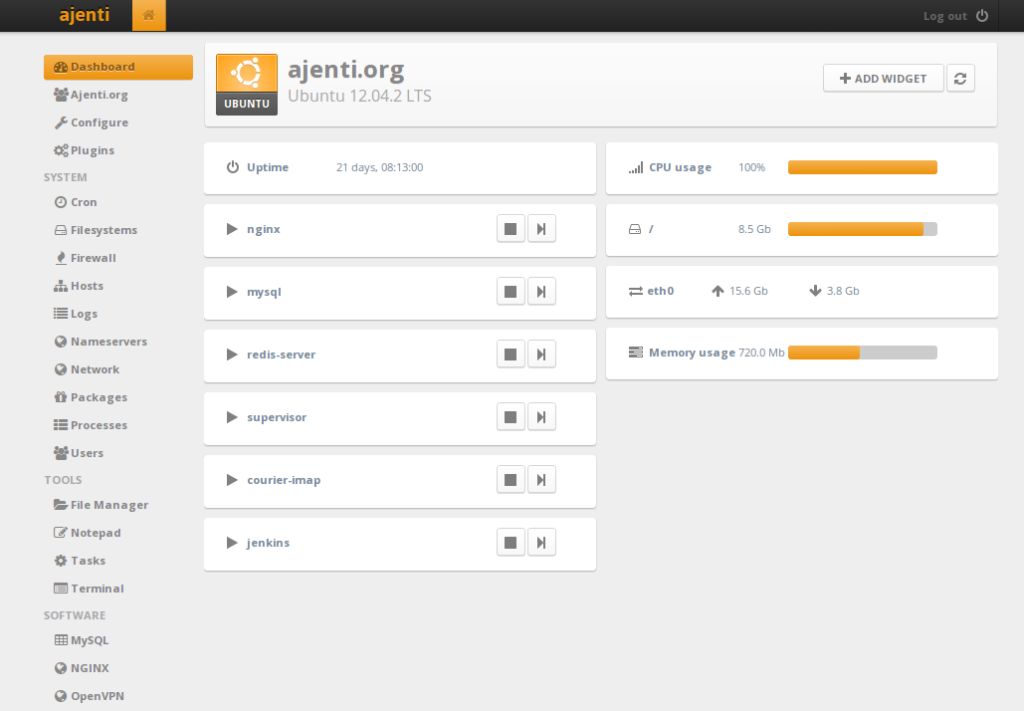 Ajenti is a popular cPanel alternative that is using Python programming in the backend and javascript for the front end. The best thing is Ajenti won't damage your existing configuration or tell you how to do your job. Preserves config structure and comments.
It has a tonne of features, such as a file manager, to make managing servers easier. Of course, many systems also offer this, but Ajenti takes a step further by enabling text editing and command-line access directly from the platform.
Features
Ajenti V makes website setup easy – including app servers, database, and routing.
PHP (PHP-FPM), Python (WSGI), Ruby (Puma and Unicorn), and Node.js are supported.
Automatic configuration of Exim 4 and Courier IMAP, including virtual e-mails, DKIM, DMARC, and SPF.
Includes tools for CLI control, deployment, and CI integration.
Pro & Cons
| Pros | Cons |
| --- | --- |
| Lightweight and supportive. | Only works with Linux servers |
| Intuitive and responsive interface | Must reset Ajenti after making a fundamental change in the system |
| Python and JavaScript extensible | Does not support advanced functions for Sysadmins |
| Efficient for users who do not have advanced knowledge of Linux distributions | |
| Access to Linux terminal from the panel | |
| Consumes fewer hardware resources in a long term | |
| Embedded web-hosted server | |
InterWorx – Web Hosting Control Panel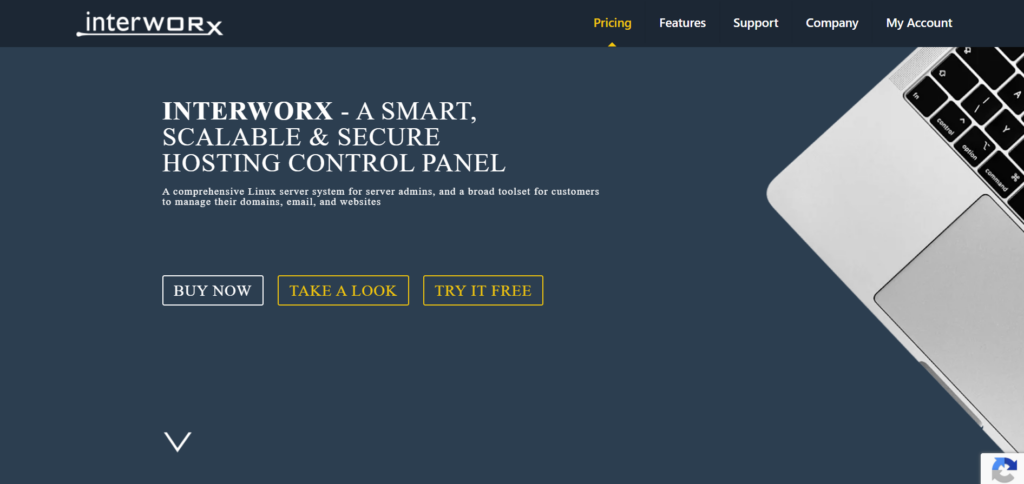 Interworx is a comprehensive Linux server system that is very popular among server admins, and a broad toolset for customers to manage their domains, email, and websites. Interworx has amazing features that allow you to easily create, manage, modify, or delete a directory in just a few clicks.
Along with all this, it provides you with two different modules nodeworx and siteworx.
NodeWorx is used for managing servers.
SiteWorx is used for managing domains and websites.
Features
User-friendly design that supports mobile devices
Actively Maintained and supported API, CLI, and support for Plugins
Developer friendly – CLI, API, and Support for Plugins
WHMCS Compatible
Multiple PHP versions
Hotfixes, Features Adds done "real-time"
One-click backup features
| Pros | Cons |
| --- | --- |
| Advanced features like domain key singing | Customer support is not good |
| Works on Command Line Interface mode. | |
| Complete server control | |
Pricing
InterWorx has a simple pricing model single server license costs you $20 per month and a single VPS license will cost you $7.50 per month or if you buy bulk licenses then it will cost you as low as $5 per month.
VestaCP – Control Panel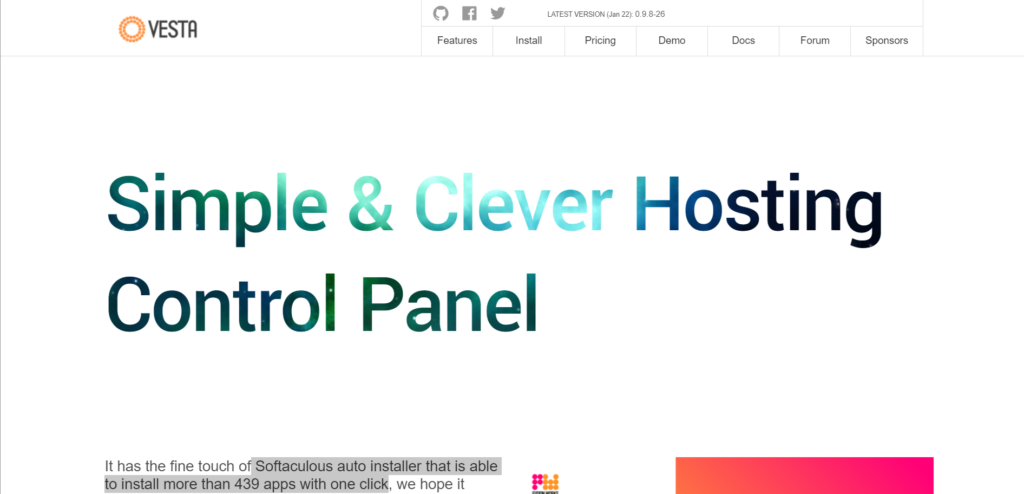 Vestacp is an open-source web hosting control panel for Linux servers. It has a very easy-to-use interface to monitor the servers with the help of graphs. Vestacp also has a Softaculous auto installer that is able to install more than 439 apps with one click.
It is a great choice to manage a small server because it is beginner friendly due to its clean interface. Also, all core features are free to use.
Features
Easy-to-use user interface Vistacp comes with a very easy-to-use and elegant-looking interface that makes you easily manage and maintain your website files.
Smart Backup features: As previously mentioned, it has a CRONjob function, a Linux command made to automate server chores like backup, upgrade, and more.
Complete control: Vesta gives you complete authority to manage, alter, adjust, and add numerous customization options.
Pros & Cons
| Pros | Cons |
| --- | --- |
| All core functionality is free | Customer support is fee-based – 60 € / h |
| The installation process is very easy | FTP: no quota or limit |
| Installation process is very easy | Complicated PHP |
aaPanel – Free & Open Source Hosting Control Panel
aaPanel is a popular cPanel alternative. It is an open source that enables you to manage the web server through the web-based GUI. Very easy to install provides a single script to run on newly created servers and the best thing is it can be used as a single source of deployment, management, and monitoring.
Features:
Support more than 100 server management functions such as one-click LAMP/LEMP/monitoring/website/FTP/database.
Database management: One click to create, set, backup, and restore the database.
A convenient and efficient file manager that supports uploading, downloading, packaging, decompression, and file editing and viewing
The server software used for the installation can be easily managed through the web interface
Pros & Cons
| Pros | Cons |
| --- | --- |
| Free and Open source | Reverse proxy not available |
| Easy to customize & use | |
| Manage Python projects using an online Aapanel editor | |
| Create and manage Website, FTP, Database & Docker | |
| Manage python projects using an online Aapanel editor | |
Pricing
aaPanel has three different plans first one is basic which is free for a lifetime and the professional plan will cost you $14.50 per month on a monthly billing cycle and $118.32 per year if you choose annual billing. To more about aaPanel pricing and features in their plans check out the aaPanel website.
Spanel – The All-in-One Cloud Management Platform
SPanel is a top-rated cPanel alternative to manage servers. It is developed by Scalahosting it allows you to have complete control over your server and websites. It is the next-generation cloud management platform, allowing every website owner to easily manage their server in a secure environment. With 24/7/365 managed support.
Features
Use the latest technologies and configs available to achieve the highest possible performance.
You remain in complete control. Your own server with multiple layers of protection.
Add, remove, or change domain names and subdomains. You can also set/change the document root for each domain/subdomain with a single click.
Install, update & secure unlimited WordPress websites using the WordPress Manager in SPanel.
Generate on-demand backups and store them locally or on a remote FTP server.
Add, remove, or edit DNS records from the DNS Editor in SPanel.
Both HTTP/2 and HTTP/3 are supported. Your websites will load faster.
Enable or disable SSH access for an account with a single click.
Switch from Apache to the OpenLiteSpeed web server with a single click and manage OpenLiteSpeed from a graphic interface.
Supports Nginx, Apache, LiteSpeed, and more web servers.
Pros & Cons
| Pros | Cons |
| --- | --- |
| Free installation & initial setup | Slow customer support response |
| SShield Real-time Protection | |
| More control and security | |
| Blazing fast performance | |
| Fully managed services | |
Pricing
SPanel has two types of licenses one is with full server management and the second is for self-managed servers. The price for SPanel licenses starts from $9.95 per month and goes up to $39.95 per month. For more about its pricing and plans check out the SPanel website.
Things to consider before choosing any best cPanel alternatives
I mentioned all the best cPanel alternatives out there in marketing but the thing is all these control panels are best in some aspects now how to choose the best cPanel alternative for you. So to do that I made a list of features that you should consider checking before using any server control panel on your server.
| Essential Features | Recommended Features |
| --- | --- |
| File Manager | Help Desk |
| FTP Manager | Version history details |
| Softaculous or any other alternativ | Clustering |
| Spam filter | Integrated Support Ticket |
| Backup features | Reseller Features |
Note: There are many more features that you should check while choosing a control panel for your server no matter you are a individual users or a web hosting provider, but the above-mentioned are the most important that must be present in a control panel.


FAQ – Best cPanel Alternatives
Are there any free or open-source alternatives to cPanel?
Yes, there are many free and open sources cPanel alternatives. Here are some of them CyberPanel, CloudPanel.io, VestaCP, etc.
What are some popular cPanel alternatives available in the market?
The most popular and widely used cPanel alternatives are CyberPanel, DirectAdmin, and Plesk.
Can you migrate existing websites from cPanel to these alternatives seamlessly?
Yes you can but it depends on the control panel that you are choosing some control panels provide their own migration tool and on others, you have to do it manually or need to use some third-party tools to migrate websites from cPanel to other server control panels.
Final Thoughts – The Best cPanel Alternatives
At the end of this, I hope you find the best cPanel alternatives for your server. If you ask me which one I choose then if I need a free cPanel alternative then I will go with CyberPanel or CloudPanel and if I need to choose the paid one then I will go with the DirectAdmin or Plesk.
Now It's your decision which one you find the best cPanel alternative for your Use. I will end this article here. If this article helps you then don't forget to share it on social media to help others.